As America slips into a recession it is now more important than ever for a small business to find affordable local SEO services and help them to be seen in their local market so they can grow their business.
A Noticeable Decline in Business.

One benefit of being a Storybrand Certified Guide is that it allows me to talk with many small business owners, and a common theme has emerged from these conversations.
Almost every business owner I've spoken with has told me that they noticed a decline in their web traffic and the overall sales for their business. I've heard statements such as, "our sales have gone flat," to "our sales have almost come to a complete stop."
If you've experienced this in your business, here's why.
Google Changed The SEO Rules.
The easiest way to describe the change that has taken place within SEO is this:
It used to be there was only one type of SEO. What is commonly called "organic" or "national" SEO.
Today there are now two kinds of SEO. In addition to organic SEO there is now Local SEO.
And although they share some commonalities, Organic and Local SEO are vastly different. Here's why.
Organic SEO.
A most basic description for organic SEO is that Google determined what qualities a website would need to be classified as "healthy" and would then rank those websites higher within their searches. As a result, the top 10% of ranking websites have 92% or better health scores.
You've probably heard of the website "audit and optimization." A website audit is a full review of your website to discover what areas are lacking compared to the information and structure that Google requires for a website to be healthy. Requirements such as Titles, Meta Descriptions, Minification of Code, Keywords, etc.
Once the audit is complete the website can be optimized for Google to meet their requirements. Once again the goal is to get the health score to 92% or better so Google will then begin to include it in their rankings.
Local SEO

As early as 2016, Google began experimenting with different methods to drive customers to local businesses. Ideas such as Google Maps, Google Business, Google Reviews, etc. Eventually, these ideas merged into what is known today as "The Local Pack," found at the top of Google search. 
In addition to Organic SEO, for a local business to rank well within the local pack, Google requires these three things.
Three Requirements Of Local SEO
Close Proximity. Using Google Maps, Google has placed the entire world on a grid. So now, knowing the exact area your potential is searching from, Google can provide the names of businesses closest to the one searching.


 

Overall Health and Authority. As with Organic SEO, your website needs a health score of 92% or better, but Google also reviews how many other websites and directories point to your website. Ultimately, Google wants to drive its customers (the ones searching) to the most reputable website available. The belief is the more respectable of a business you are; the more people will direct others to your business. This requirement can be met by acquiring "citations and local directories" to list your business.


Reviews. Using Google reviews, websites with a higher star rating and more reviews will rank better than those who don't.
Of these three criteria, it's worth mentioning that Google has stated they place the most weight on the last; getting positive reviews.
So How Does This Affect You From Getting The Customers You Need?
When a potential customer begins their seach to solve their problem the results they find look like this.
First They See The Local Pack.
The Local Pack is displayed at the top of the page — below ads, but above organic, in a box showing a map. As stated earlier for your business to rank well inside the Local Pack it needs to meet the 3 Criteria; close proximity, a healthy website that carries authority, and a business that has a higher star-rating that its competitors. 
Then they find the Organic Results.
Organic results usually show below any ads or packs. This is what is now known as "traditional," "organic," or "national" SEO.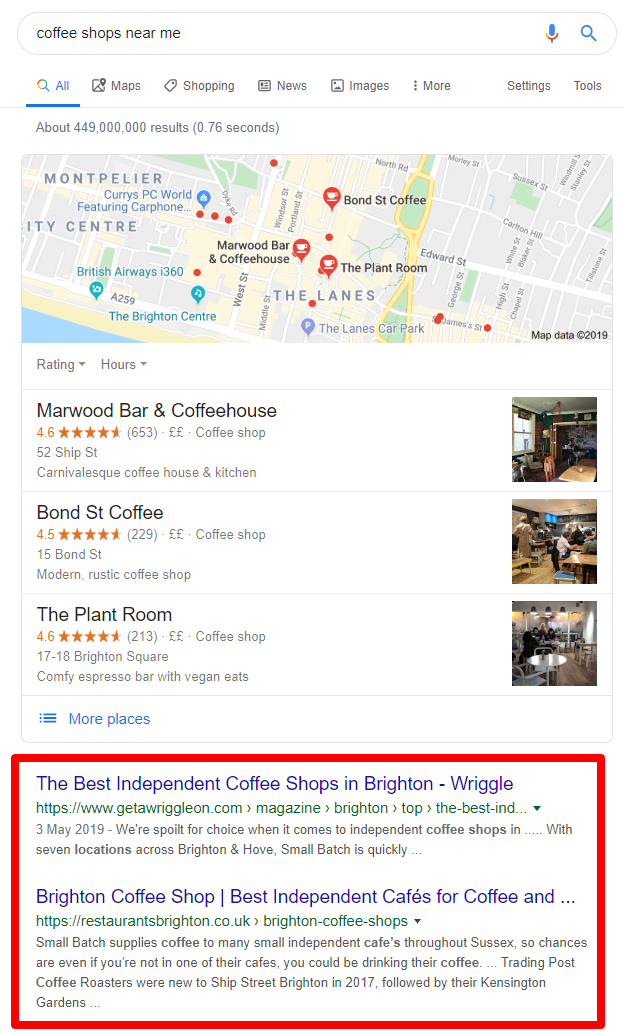 Have you seen a decline in your web traffic or sales?

If you have seen a decline in your overall web traffic or sales, it may simply be that your customers can't find you. That is why you need affordable local seo services.
I encourage you to take advantage of the two FREE reports above and know for certain how Google sees your website. If you have questions or want to know how you can take back your customers I invite you to Schedule A Call. I'll review your website and provide suggestions to grow your business.
For more information on the Local and National SEO we offer at StoryWorks you can see here –
National SEO – The Godfather Of SEO